The price of Shiba Inu (SHIB) has experienced a downward trend over the past several days. This corrective phase, marked by declining trading volumes, is shedding light on a potential weakening in bearish momentum.
Interestingly, this price action aligns with the emergence of a triangle pattern, a technical phenomenon that often holds significant implications for market trends.
In technical analysis, a triangle pattern refers to a chart pattern formed when the price moves within converging trendlines, creating a triangular shape. This pattern indicates a period of consolidation and indecision in the market, as buyers and sellers reach an equilibrium. 
Typically, this pattern is associated with a temporary pause in the prevailing trend, and it often precedes a significant breakout or breakdown.
Shiba Inu Bearish Pennant Formation
According to a recent price analysis, this triangular sideways movement for SHIB comes on the heels of a substantial price drop, raising suspicions of a bearish pennant pattern taking shape.
A bearish pennant is characterized by a brief consolidation period following a sharp decline in price. During this time, the bearish momentum takes a breather, potentially prolonging the correction trendline.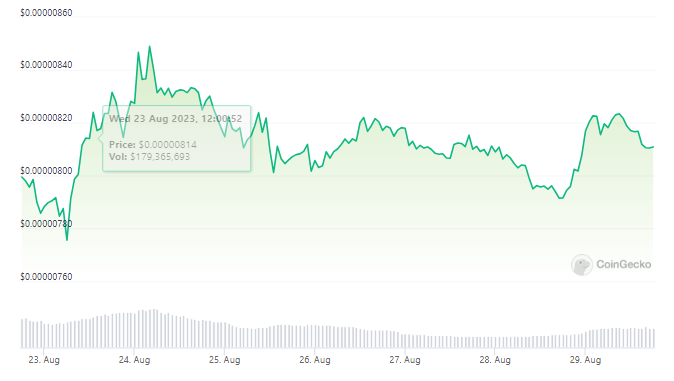 A closer examination of the daily chart reveals a notable rejection from the lower trendline of the pattern. This rejection hints at the possibility of a bullish upswing within the confines of the pattern, suggesting that the SHIB price might be gearing up for a potential reversal.
As of the latest data, the current SHIB price stands at $0.00000814 according to CoinGecko, indicating a 2.1% rally over the past 24 hours. In the span of seven days, SHIB has managed to accrue gains of 3.4%. These numbers, against the backdrop of recent market turbulence, hint at a certain level of resilience within the SHIB token.
Implications Of Significant Token Movements
Ali Martinez, a respected crypto trading chart analyst, has drawn attention to a startling development that could impact SHIB's trajectory. In a post on X, Martinez noted an extraordinary movement: approximately 2 trillion SHIB tokens were rapidly withdrawn from established crypto exchange wallets within the preceding week. This revelation has set off ripples of speculation and discourse within the digital asset community.
#ShibaInu | A staggering 2 trillion $SHIB tokens have been pulled from known #crypto exchange wallets just this past week. pic.twitter.com/MiWMNUp7jY

— Ali (@ali_charts) August 27, 2023
The swift movement of such a significant number of tokens raises questions about the potential implications for SHIB's position within the broader crypto market. As market participants grapple with the ramifications of this withdrawal, it remains to be seen how this bold maneuver might shape SHIB's future price action and overall market sentiment.
With potential bullish signals emerging within this pattern and the intriguing withdrawal of tokens, the coming days could hold decisive clues about SHIB's direction in a rapidly changing market environment.
(This site's content should not be construed as investment advice. Investing involves risk. When you invest, your capital is subject to risk).
Featured image from Adobe Stock
Source and More information: Shiba Inu Price Analysis: Bearish Pattern Puts Heavy Load On SHIB Advance
Author: NewsBTC.com