OnlyFans, the well-known adult content subscription platform, has made a bold move into the world of cryptocurrencies. Its parent company, Fenix International, recently revealed its significant investment of nearly $20 million in Ether (ETH) in 2022. 
According to official financial filings submitted to the UK corporate registry, Fenix International acquired nearly $20 million worth of ETH over a two-year period.
While the company's investment in Ether demonstrates its progressive approach, it wasn't immune to the market's inherent volatility. By the end of November 2022, the value of Ether had plummeted by $8.5 million, leading to an impairment loss on the investment.
The remaining carrying amount of Ethereum stands at $11.434 million, reflecting the broader trends and uncertainties in the cryptocurrency market.
OnlyFans Ventures Beyond Traditional Offerings
The move to invest in Ether aligns with OnlyFans' broader strategy of diversification and technological innovation. Investing in intangible assets with an "indefinite useful life" showcases the company's willingness to embrace emerging technologies like blockchain, positioning itself at the forefront of industry trends.
The disclosure about Fenix's acquiring a substantial amount of Ether has not seemed to provide a lift yet to the price of the crypto. At the time of writing, ETH was trading at $1,636, down -0.8% in the last 24 hours, and sustaining a slight 2.2% loss in the last seven days, data from crypto market tracker Coingecko shows.
The financial filings offer a glimpse into OnlyFans' multi-faceted performance. Despite the challenges posed by its cryptocurrency investment, the company reported impressive financial results for the year ending November 2022.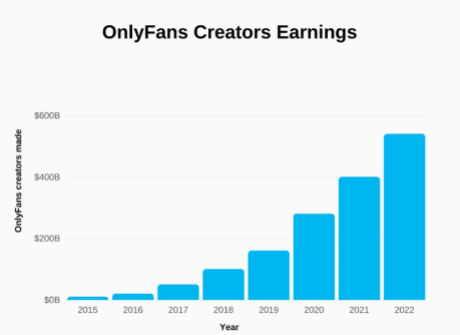 With revenue surpassing the $1 billion mark, driven by an influx of over 50 million new users and more than a million content creators, OnlyFans solidified its position as a revenue-generating powerhouse. Users collectively spent an astounding $5.5 billion on the platform.
OnlyFans Pioneers NFT Integration And Celebrity Trading Cards
Leonid Radvinsky, the visionary entrepreneur of Ukrainian origin who acquired OnlyFans in 2018, has reaped the rewards of the platform's surging popularity.
The filings unveil that Radvinsky amassed dividends approximating $485 million since the inception of the previous year, in line with the escalating demand for OnlyFans' offerings.
This recent crypto venture is not the company's first stride into the digital asset domain. In early 2022, OnlyFans facilitated a pioneering move by enabling verified creators to replace their profile pictures with Ethereum-based non-fungible tokens (NFTs).
Moreover, in June of the same year, former OnlyFans executives unveiled Zoop, a celebrity trading card platform leveraging the Ethereum scaling solution Polygon. Zoop allowed users to trade 3D digital playing cards depicting their favorite celebrities.
The disclosure of Fenix International's Ethereum holdings dovetailed with an industry-wide trend, as adult content creators began flocking to Friend.tech, a decentralized social media platform rooted in the cryptocurrency realm. This rush underscores how crypto's recent surge has not only captured financial markets' attention but also influenced sectors far beyond conventional investments.
Featured image from Verità e Affari
Source and More information: OnlyFans Parent Company Buys $20 Million Worth of Ethereum – A Boost To ETH Price?
Author: NewsBTC.com