Terra Luna Classic (LUNC) has embarked on a six-month journey marked by a consistent downtrend, largely influenced by the gravitational pull of a so-called descending channel pattern. This pattern, characterized by successive lower highs and lows, mirrors an active market sentiment favoring sales during attempts at bullish rebounds.
Mid-August proved to be a pivotal juncture for LUNC as aggressive selling surged, triggering a precipitous plunge from $0.0000658 to $0.0000523. This swift and significant 34% drop led to a critical retest of the support trendline intrinsic to the falling channel pattern. 
Interestingly, the coin's value exhibited resilience through multiple instances of dynamic rebounds, translating to intermittent bullish bounces in its ongoing recovery phase.
Terra Luna Classic Chart Hints Signs Of Resurgence
Delving into the price analysis, the daily chart unfolded a compelling narrative with a long-tailed rejection manifesting at the lower boundary of the channel pattern, commencing on August 17. This occurrence effectively signaled an undercurrent of demand pressure. Capitalizing on this support, the price rebounded vigorously, propelling it upwards by 22%, currently resting at $0.0000638.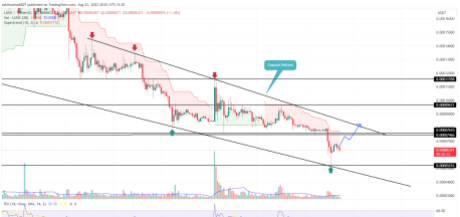 Should LUNC's price sustain its position above $0.6 in the coming days, a beacon of hope emerges for buyers to potentially spearhead a rally of up to 25%, culminating in a rendezvous with the overhead trendline of the channel. Yet, the market's true affirmation of a trend reversal hinges upon a more decisive signal: a bullish breakout from the resistance trendline.
Nova's Strategic Intervention Amidst Community Dynamics
In a parallel development, Terra Luna Classic's validator, Nova, has unveiled a strategic initiative in response to a proposal that floundered amidst some challenges. The proposal, aimed at funding the Quant USTC repeg team, faced rejection within the Terra Luna Classic community.
As a result of the refusal of #LUNC validators to pay the $USTC Team for work that they delivered successfully, we will now be funding the USTC Team directly with our commissions in response to this breach of contract by validators.

If you want to fix the chain, please delegate.

— Nova (@NovaValidator) August 23, 2023
Despite a promising trajectory for Proposal 11716, which sought to financially support the Quant team for the month, some validators' eleventh-hour "No" votes led to its downfall.
Consequently, Nova has stepped forward to finance the USTC repeg team, fostering a collaborative spirit. With an appeal for the community to align their interests and redelegate with Nova, a concerted effort seeks to bolster the USTC repeg mission and breathe renewed life into the Terra Luna Classic ecosystem.
The LUNC price on CoinGecko currently stands at $0.00006448, reflecting a 0.5% increase in the past 24 hours. Additionally, over the course of the past seven days, the LUNC price has experienced a decline of 4.8%.

As the Terra Luna Classic journey unfolds, the interplay of technical trends and community dynamics sets the stage for another chapter in the cryptocurrency narrative.
(This site's content should not be construed as investment advice. Investing involves risk. When you invest, your capital is subject to risk).
Featured image from The Blade
Source and More information: Terra Luna Classic Price Near-Term Advance – Will LUNC Climb 25%?
Author: NewsBTC.com